Page 2 sur 2 •

1, 2

regina-3845 a écrit:j'avais pas vu celle ci mais la tête de David
Attention Papa Charming sent arriver l'alerte là. Sa fille a sortie la robe, ca rigole plus. Danger Danger!
________________________________________________________________________________________________
#Gwenders Crew Addict : Gwendersettes n°1
Ban de Thyrsette  
OTP:

No matter how much I missed you or how much pain I was in I never would have erased everything we ever had. Even if I was drowning in grief, I'd rather hang on to every moment that I ever held you, or every laugh I ever heard, every shed of happiness that we ever had. I would rather spend every moment in agony then erase the memory of you.
Damon Salvatore
De toute façon Killian en tant que Hook n'a servit à rien, donc autant bouclé cette histoire. Je n'aime pas la tenue d'Emma, je ne l'a reconnais pas trop dans cette tenue, ça fait trop "sage" c'est plutôt une tenue pour Snow, je l'a préfère plutôt:
Spoiler:
Je dis pas qu'il faut qu'elle s'habille toujours en rouge mais la tenue blanche ne lui va pas trop bien, j'ai l'impression qu'elle fait trop sage alors que les autres tenues dégageaient mieux la forte indépendance Emma et son caractère un peu sauvage.
Bon, un épisode CS, je vais enfin savoir si enfin de compte je pourrais les supporter longtemps sans zapper leurs scènes, finalement on en a pas trop mangé dans les premiers épisodes donc je suppose qu'ils vont mettre les bouchées doubles.

Invité

Invité





Non mais c'est clair...On dirait qu'elle va à un bal de fin de promo 
 (ou qu'elle a un sérieux problème avec les mecs)
Quand je vois la robe qu'elle avait dans le pilot (même si elle bossait sous couverture). Ca va tellement mieux à la fois à Jennifer et à la personnalité d'Emma ! 
En tout cas Hook va être hot à souhait 
________________________________________________________________________________________________

Tony

Mad Hatter




Messages

: 4841


Date d'inscription

: 16/03/2013


Age

: 28


Localisation

: Bourges




C'est super bizarre, sa tenue et sa coiffure me font penser aux années 50 ....
________________________________________________________________________________________________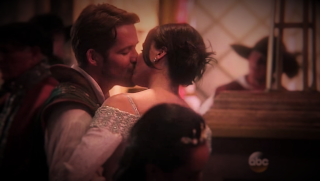 samtigrou

Baelfire




Messages

: 3834


Date d'inscription

: 02/05/2014


Age

: 36



Je pense qu'il arrivera un moment où le CS prendra une claque comme les autres et on aura une séparation... Pas forcément une rupture du couple mais y'aura des événements qui feront qu'on les maintiendra à distance et c'est tant mieux car yen a marre de Hook... Mais yen a aussi positivement marre d'Emma... Elle non plus ne sert à rien, à part jouer les shérifs brandissant son arme partout dans la ville elle fait que des conneries et n'évolue pas des masses

Seul truc intéressant avec elle c'est son rapport avec la SnowQueen...
Je ne suis pas anti CS mais le public en bouffe trop et c'est pas bon... Faut aussi les mettre en veilleuse de temps temps sinon c'est la lassitude.
________________________________________________________________________________________________
Kit by @Graham 

ReQuiEM

Charming




Messages

: 8175


Date d'inscription

: 21/12/2012


Age

: 37


Localisation

: Town hall



Page 2 sur 2 •

1, 2

---
Permission de ce forum:
Vous
ne pouvez pas
répondre aux sujets dans ce forum